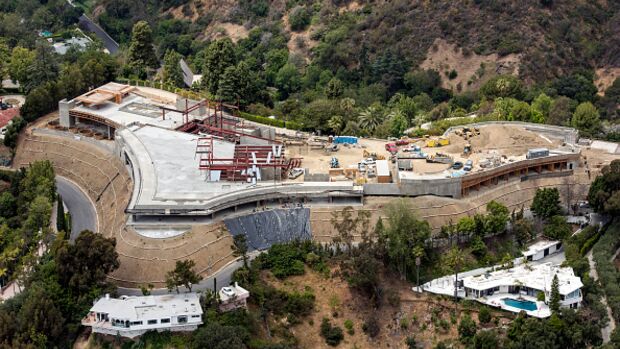 How Long Before a Home Lists for $1 Billion?
JUN 8, 2015 7:00 AM EDT
By Jonathan J. Miller
When a Los Angeles hilltop home that's under construction was recently priced at a record half-billion dollars, it looked like a one-off in excess. The same thought occurred to me late last year when real estate investor Jeff Greene, who won big betting against the housing market before the financial crisis, priced his renovated Beverly Hills, California, home at $195 million. When I dug a little deeper, though, I found that the nine-figure home is becoming almost, well, commonplace: there are no less than three homes with asking prices of more than $300 million -- on the French Riviera, in London and in Monaco.
Those prices tower over anything a high-roller hangout like the Hamptons has to offer; the most expensive sale there was an East Hampton estate that last year fetched $147 million, less than a third of the asking price for the L.A. house -- but still the highest price ever for a U.S. home.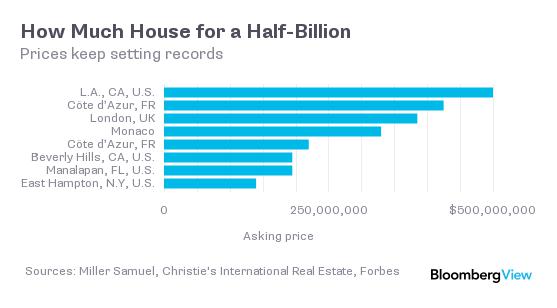 The National Association of Realtors reports that the average U.S. existing home goes for $264,500. Should anyone thinking of buying that half-billion L.A. palazzo consider other uses for that money, it could buy roughly 1,890 average homes, or the equivalent of a small town.
There is no precedent for these kinds of prices. And yet there may be other homes available in this price range or higher, but hidden from public view as so-called pocket listings -- homes not officially on the market but whose owners have indicated their willingness to consider offers.
Are these homes worth the money or are their owners simply emboldened by recent gilded-age real estate trends? Just for some context, in the past 18 months there have been 30 U.S. homes sold at or above the $50 million mark.
In the U.S., the $100 million listing price threshold was reached a few years ago for a Manhattan condo on top of a Midtown tower built 30 years ago. This condo sat on the market for several years and never sold. But the Manhattan market is catching up and now there are several penthouse condos that will be offered for as much as $175 million.
These residences are far removed from what the average person, or even the average rich person, considers a home. Although these properties are technically considered single-family residences, many will never be permanently occupied and their owners may never have to bother with the fuss of making a mortgage payment. In some case, their owners may never even spend a night in them. They are homes in name only.
About the only question left is: When will a home go on the market with an asking price of $1 billion?
http://t.co/C4Gmn07HLZ
To contact the author on this story:
Jonathan Miller at
[email protected]
To contact the editor on this story:
James Greiff at
[email protected]